Relative Majority Favors Legalizing Cannabis In Germany For The First Time
Cannabis reform has more momentum on the European continent right now than ever before since the start of prohibition, and Germany is at the heart of it.
Medical cannabis is already legal in Germany, and legal sales have been underway for a handful of years now. Every passing year sees a new record set for German medical cannabis sales.
A new type of reform, adult-use legalization, is on the horizon in Germany, with the new coalition government has expressed a desire to legalize cannabis for all adults in the near future.
When news of the legalization plan surfaced it instantly took over the international news cycle, beyond just cannabis news, and that didn't come as any surprise to long-time cannabis policy observers.
Support For Legalization Is Strong
Many polls have been conducted over the course of several years in Germany to try to gauge public support for full cannabis legalization.
While some of those polls showed strong support for legalization, they almost entirely relied upon online methods for people to participate in the polls.
That methodology is very hard to rely upon and is largely why polling results out of Germany were all over the board, with many polls showing overwhelming support and other polls showing the exact opposite depending on which outlet/entity was conducting the online poll.
Deutscher Hanfverband recently conducted a poll in conjunction with an established, well-known institute that incorporated both telephone and online polling. 
The poll was part of a similar annual survey, which is an important distinction compared to other polls because it provides tremendous insight regarding shifting views in Germany regarding adult-use legalization.
As you can see from the chart below, provided by Deutscher Hanfverband, support for legalization is now at 49%, which is greater than support for keeping prohibition in place. This is a first for Germany: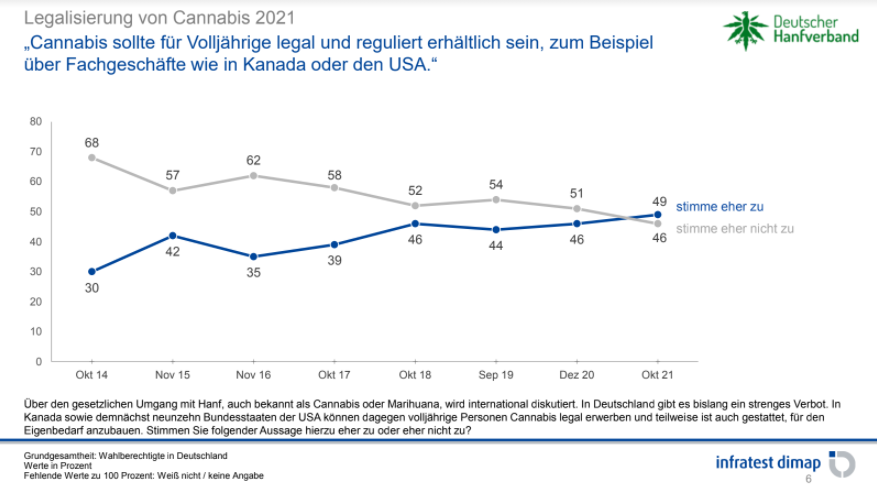 "There is no majority in the population in favor of banning cannabis. For more than 200,000 criminal proceedings per year, not only is there a lack of scientific basis, but also democratic legitimation. It's time for legalization." stated Georg Wurth, spokesman for the German Hemp Association.
The Most Significant Legalization Domino So Far
As of this article's posting, there are only two countries that have legalized cannabis for adult use – Uruguay in 2013 and Canada in 2018.
A laundry list of countries has indicated that they plan to make a major push for legalization in 2022, including Germany.
Malta appears to be on the verge of legalizing cannabis for adult use for cultivation and possession purposes, with the final passage and the president's signature expected to happen this week. 
If that happens, Malta would become the first country to legalize cannabis for adult use in Europe, and the third country to do so on the planet.
With that being said, legalization in Germany would be a bigger deal from political momentum and emerging cannabis industry standpoints compared to Uruguay, Canada, and Malta combined.
Germany has a population of over 80 million people and is home to the fourth-largest economy on planet earth. By comparison, Canada, Uruguay, and Malta only have a combined population of roughly half that of Germany, and those nations do not wield nearly as much political power as Germany on the international level.
Whereas Malta, and reportedly also Luxembourg, plans on only legalizing cannabis cultivation and possession for adults, Germany is planning on implementing a robust, regulated adult-use industry nationwide.
Given Germany's place in the political and industry arenas in Europe and throughout the rest of the world, legalization there will be more significant than can be expressed in words, and according to recent polling, it's a move supported by more Germans than not for the first time in history.