The Oregon Medical Marijuana Program Lives On, Needs Reform
"The OMMP is dead."
"Wrong. Long live the OMMP!"
If you are a member of the Oregon cannabis community, you have most likely heard people say, or post on social media, that the Oregon Medical Marijuana Program (OMMP) is dead. While some unnecessary laws and regulations have hurt the ability of many cannabis growers to continue providing for as many as they were previously, the OMMP is alive and well, thanks to many dedicated providers and activists.
It has certainly been a long, strange trip for the Oregon cannabis community since, well since forever probably, but certainly since the state voted to legalize cannabis by passing Measure 91 in 2014. While I certainly do not regret helping end cannabis prohibition in Oregon, when I discuss the cannabis scene since the implementation of M91, I usually bring up the Western classic, "The Good, the Bad and the Ugly" as there have certainly been unfortunate laws and policies enacted the past few years.
Despite the text of M91 that stated the legalization should not impact the OMMP, legislators, many who have been skeptical of the OMMP and various lobbying groups successfully, have taken the opportunity to further regulate the growing of medical cannabis. Those that have been lobbying at the Oregon Legislature for several years know that regulations were ultimately inevitable. It was only a matter of time before more regulations were enacted, mostly due to a handful of bad actors tarnishing the OMMP.
Despite the regulations, tens of thousands of patients are still being helped by the Oregon Medical Marijuana Program. Over 60,000 patients are still registered with the OMMP, each receiving the ability to maintain their own medical cannabis garden (or have someone else cultivate for them), avoid the 17% to 20% tax that localities impose on recreational cannabis sales and a wider selection of medical-grade cannabis products. And in spite of plant limitations, compassionate growers are still finding ways to help many patients receive free or low-cost medicine.
Recently, the OMMP issued new plant limit directives following the passage of Oregon House Bill 2198, a bill that includes some good things, such as the establishment of the Oregon Cannabis Commission that will advocate for positive policies for our patients and allowing qualified growers sell up to 20 pounds yearly into the recreational system. Unfortunately, a provision of HB 2198 is nonsensically being interpreted by the state to limit the number of plants allowed at a residence address where a patient (or the patient's caregiver) is also a grower at that residence.
Thankfully, dedicated patient advocates, particularly those at Compassionate Oregon, Oregon SunGrown Growers Guild, and Right To Grow, have been at work to change this plant limit, but also find ways to still provide for patients. Thanks to Right To Grow's Sandy Diesel, we have found one such way for patient growers to still cultivate more than 12 plants at their residence. Sandy sought info directly from an OMMP compliance officer who told there that two patients growing for each other, but not listed as one another's caregiver, could still cultivate for more than 12 plants, giving them the ability to still grow for more patients. (You can see a picture of the correspondence at the end of this blog post.)
It also appears, but this compliance officer's rationale, that a patient grower could have their grow site at another residence and still cultivate more than 12 plants at their own residence for other patients, so long as they are not listed as a caregiver for any of those patients. (Typical disclaimer: nothing in this blog should be considered legal advice and you should always consult with a practicing attorney if you have any questions as interpretations and law enforcement priorities can vary across the state.)
Yes, it is a hassle to have to jump through so many unnecessary hoops, but the OMMP remains one of the best medical marijuana systems in the world, and navigating these hoops help improve the lives of so many patients. There are still more than 61,000 patients and over 25,000 grow sites across the great state of Oregon. Through Duff Johnson Consulting's work matching patient and growers and helping qualify patients at Ashland and Northwest Alternative Health, not to mention the benefits we see among our family and friends, I see the benefits of the OMMP firsthand in helping patients lives and will continue working with advocates to protect and improve our state's medical program.
While the changes to the program and entire political process can seem maddening, working together can help OMMP activists roll back burdensome rules and improve the lives of patients. In addition to implementing more common-sense rules to help growers cultivate effectively for patients, we will be advocating that the state establish a low-income patient program and provide greater access to the commercial market for OMMP growers.
Don't fall for the "OMMP is dead" rhetoric. Don't give up. Join forces with other advocates and organizations to continue to fight for the OMMP. I have seen amazing work accomplished by so many tremendous Oregon activists over the years, that I, and many others, will never give up the fight. The Oregon Medical Marijuana Program is too valuable and too helpful and it remains a great benefit for tens of thousands of sick and disabled Oregonians. Long live the OMMP!
The OMMP compliance email regarding medical gardens sent to Right To Grow's Sandy Diesel: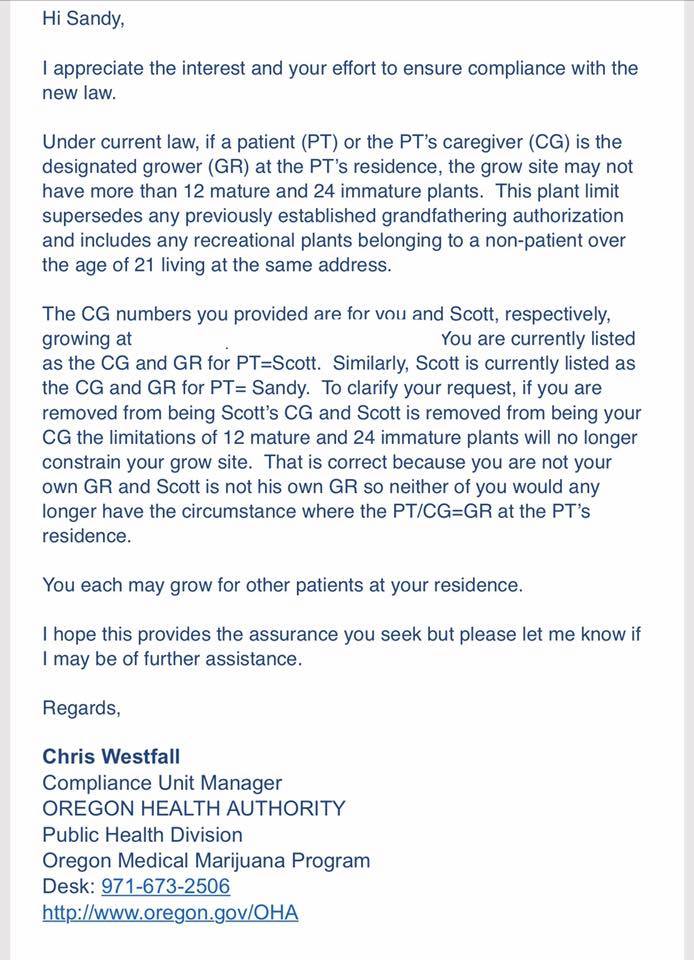 Compassionate Oregon, OMMP, Oregon Medical Marijuana Program, Oregon SunGrown Growers Guild, Right to Grow