ICBC February 8, 2019 SAN FRANCISCO SCHEDULE
Expo Open From 8am To 6pm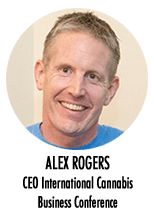 8:45 Conference overview Alex Rogers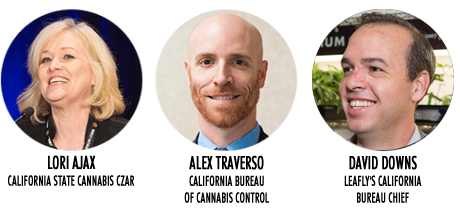 9:00 The California Cannabis Czar, One Year Into Legalization
Bureau of Cannabis Control Chief Lori Ajax and BCC Communications Chief Alex Traverso discuss the status of California's cannabis industry and regulations, moderated by Leafly's David Downs. Learn about current regulations and what may be on the horizon directly from the top regulator in the state.
9:45 Cannabis and the Feds
Cannabis legalization is supported by 2/3 of Americans, with majority support among Republicans, Democrats, and independents, but there is much work to be done at the federal level so that U.S. cannabis policies match the will of the voters. The good news is that we are in a stronger position politically than ever before to hold Congress and the president accountable. Our panel of experts will discuss the outlook to reform federal law on issues such as the 280E tax code, banking services for regulated cannabis businesses, and putting an end to the failed and harmful policy of cannabis prohibition.

10:30 Investment and Capital Markets
Stoked by the rapid growth of legal markets, Investment in compelling cannabis companies has grown increasingly competitive with convergence of private equity and public markets capital. Never has been more crucial for Companies to understand the Investment environment and associated factors, such as reporting requirements, and strategic synergies can impact a Company's operations and growth trajectory. Our panel of leading private and public fund CEOs will provide an updated Investor landscape and delve beyond simple dollar amounts in assessing the impact of taking in Capital via different investment vehicles.
11:15 Cannabis in the Capital Markets – Going Public
Stockhouse.com will be providing insight into the process of going public and raising capital in the ever-evolving Cannabis sector. Stockhouse will be moderating a panel discussion with industry professionals, including the Canadian Securities Exchange, who will share their knowledge and experience on all aspects of going public. This panel will address many of the common questions asked during the process of going public, and will speak to the complex nature, jurisdictional issues and industry specific challenges facing today's Canadian – and U.S. – Cannabis companies in the capital markets.
12:00 International Investing
The international cannabis market is full of high-risk investment opportunities, both public and private. Businesses across the space are faced with a host of issues including product contamination and efficacy issues, international commerce import/export regulation liabilities, political and regulatory volatility, operational compliance issues, and unqualified operators. In this session, Nic Easley, CEO of 3C Consulting, LLC™& Managing Director of Multiverse Capital, walks you through public and private international cannabis investment strategies and shows you how to thoroughly vet opportunities while reducing risk. Attendees will gain keen, actionable insight into global cannabis markets.
1:45 Mainstreaming of CBD
As CBD continues to take the world by storm, a number of enterprising companies are working to meet the rapidly increasing demand. Whether its derived from cannabis or hemp, full spectrum or isolates, the form factors, formulations, product innovations, market trends and consumer preferences are evolving at lightning speed. How are entrepreneurs adapting to this rapid pace while dealing with challenges such as the complex and ever-changing global regulatory environments, competition from big pharma, and their own ability to scale? This panel of experts will discuss the many challenges, opportunities and trends in CBD consumption ranging from nano-emulsions to CBD-rich hemp pre-rolled joints now gaining traction as a tobacco alternative for smoking cessation.
2:30 International Markets
Even before Canada legalized cannabis last October, the industry was already international. Now that Canada is leading the way with regulated cannabis commerce for all adults, we can expect more countries to end prohibition as well. Learn about current and future opportunities in countries like Germany, Spain, Switzerland and more.
3:00 Distribution
True partnership is what every producer/brand is seeking in a distributor. Vetting the right partner is key – one who understands how to move products through the regulated supply chain while keeping partners compliant and keeping customers happy. Understand the competitive landscape for distribution, the unique business model offerings, value add services, and how to evaluate one distributor from the next. Be an educated buyer when evaluating distributors – do your due diligence to evaluate the best partner for today and the partner who will carry you through the changing tides of the industry – intrastate, nationally, and globally.
3:45 Tech and Cannabis
This powerful plant is being pushed through a modern supply chain. How and who is reshaping cannabis product and commerce with technology? This panel gathers a range of innovators bringing emerging technology to modernize, lend efficiency, and help scale Cannabis.
4:15 Industry Disruptors
Cannabis is disrupting pop culture and siphoning revenue streams from well healed industries including Alcohol, Pharma, and Tobacco. Our panel, features the cannabis industries' most disruptive companies and visionary leaders, blazing trails while creating new products, services and entire markets leveraging their unique IP and and innovative approaches. A chance to learn from best-of-breed disruptors and gain a glimpse into what the future of our Industry may hold.
5:00 Strategic Partnerships: A Key To Survive and Thrive
Specialization is a major factor attracting capital and helping grow the Cannabis sector at hyper-speed. As businesses scale, focused models will be a necessity from both economic and regulatory perspectives, allowing companies to position and embed into the Industry value chain alongside other 'specialists'. Our panel of Industry experts will discuss strategy in identifying synergies in prospective strategic partners and offer their insights related to making these significant decisions which can be a determining factor in the survival and ultimate success of your business.