Canopy Growth Acquires Volcano Vaporizer Manufacturer
In big news out of Germany, Canopy Growth has announced the acquisition of the eponymous vaporizer manufacturer, Storz & Bickel GmbH & Co. The approximately €145 million acquisition was finalized in the first week of December.
Neither firm, of course, needs any introduction to the world of cannabis fans and consumers (much less investors). The Tuttlingen, Germany-based S&B manufacture the internationally renowned medical Volcano and the Mighty Medic. They have also established a global reputation for their technology, developing an automated and internationally certified factory which exports to 50 countries around the world. Their ISO 13485 certification means that the facility has been independently examined by external auditors and found to be compliant with the requirements necessary to produce medical devices.
Founders Markus Storz and Jürgen Bickel will remain a part of the organization to drive business forward along-side Canopy Growth's management team. Canopy also has a group of software engineers currently developing advanced vape devices and technologies.
Canopy Growth, of course, is one of the world's largest Canadian Licensed Producers, with a global footprint at this point, and deep cash reserves.
A World Class Integrated Cannatech Play
The world of cannatech just got more interesting but that is not the only news here.
Vaping technology is actually, beyond cannabis itself, one of the cutting edges of medicine delivery. Instead of inhaling smoke, users inhale vapor. This is actually a faster method for absorption into the bloodstream allowing more accurate delivery.
However, this ingestion method is also expected to replace hypodermic needles. That in and of itself is significant as it will also move medical delivery of other drugs into a needle-less world. From a public health perspective, this will also have a direct impact on the spread of needle-based diseases such as AIDS and Hepatitis. Further, particularly illicit drug users in the heroin space might well be incentivized to switch not only the drugs they use but the method of ingestion at the same time. Insulin is also increasingly being vaped.
The implications of such a marriage on the nanotechnology front are also significant. Namely, research has been ongoing for several decades on ways to integrate vape tech with nanotech to find ways to insert nanotech into the vapor to deliver a fast way to treat illnesses, repair damaged cells and improve the body's immune system. Still very much in its infancy, E-medicine or V-meds tech is expected to eventually revolutionize the medical industry.
With a company like Canopy with deep scientific experience in this space, partnered with Alcaliber in Spain, one of the world's largest opioid manufacturers, this new alliance with Storz and Bickel heralds not only an exciting tech partnership but also one that is well-funded and uniquely placed in the world at this point to revolutionize public health and consumer safety, if not advance the cannabinoid discussion in all the right places.
There is no better place than the International Cannabis Business Conference to learn the latest about the global industry and to network with top investors and entrepreneurs from around the world. The ICBC heads to San Francisco on February 7-8, 2019, before traveling to Europe for a series of events in Barcelona, Berlin, and Zurich, and then returns back to North America for a Vancouver conference to check in on legalization in Canada. If you are in the cannabis industry, or are thinking of joining, the ICBC is for you. Early bird tickets are now on sale!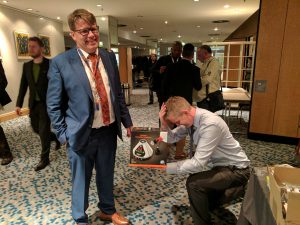 Alcaliber, Canopy Growth, Mighty Medic, Storz & Bickel, Volcano