Attend Business Of Cannabis: New York On November 3rd
A great event is coming up a week from today in New York City, and we are encouraging everyone in the region to attend. Below is more information about it. Make sure to use code ICBC20 to get a discount on your tickets!:
New adult-use regulations in New York are set to bring a fresh wave of capital into the cannabis market. Investors and operators will attend Business of Cannabis: New York to identify opportunities at a critical time for the forecasted $7.2bn industry.
With federal regulations looking likely to relax and markets beginning to gain traction again, the cannabis industry seems to be entering a unique phase of growth across North America. In New York, the adult-use cannabis market roll out has faced unique and arduous hurdles since legalization, with a court injunction still preventing many CAURD dispensaries from progressing with their plans.
Despite that, according to Prohibition Partners' Global Cannabis Report, the New York cannabis market is still set to achieve impressive year-on-year growth and be worth a staggering US$7.2 billion by 2026.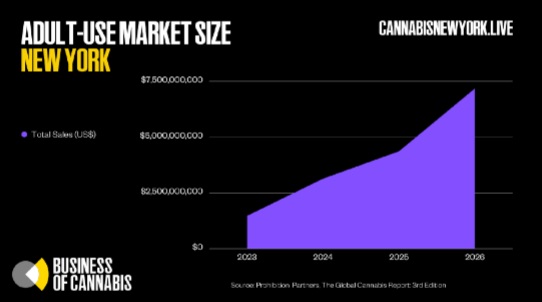 With full adult-use retail finally opening up in the state, is now the moment for the market to fulfill its promise as the new global 'Capital of Cannabis' and, if so, how can equity and its
much vaunted CAURD scheme remain at the forefront of its policies?
"How can CAURD operators stand out with ROs now entering the market? Independents need to move faster to compete with ROs entering the adult-use markets soon." – Dai Truong, Managing Director, Arlington Capital Advisors (speaker)
"In spite of the hurdles constantly thrown in front of us, we will continue to pursue our dream of opening our dispensaries and are doing everything we can to make it a reality for us and the other CAURD licensees." – Vladimir Bautista, CEO & Co-Founder, The Happy Munkey (speaker)
Business of Cannabis: New York is an exclusive leaders summit that connects 400+ visionary entrepreneurs, savvy investors, plus new and seasoned operators in the cannabis space. Attendees will gain a competitive edge through a comprehensive day-long programme that shines a spotlight on the latest market trends, regulatory updates, and investment opportunities, whilst tying together the three key pillars which enable the industry to thrive: retail, policy & investment.
Key highlights of the conference include:
● Leading Industry Experts: Renowned CEOs, industry titans, and key policy makers will share their invaluable insights and knowledge, providing attendees with the inside scoop on industry trends and strategies in real time.
● Investor Connections: With a high percentage of attendees coming from the realms of finance and investment, take the chance to discuss business ideas and connect with potential investors looking to deploy capital.
● Networking Opportunities: Attendees will have ample opportunities to network with peers, form strategic partnerships, and build relationships that can drive their cannabis ventures to new heights.
● Regulatory Updates: Stay ahead of the curve with exclusive updates on the ever-evolving cannabis regulations, ensuring compliance and mitigating risks for your business.
● Market Intelligence: Gain access to proprietary market data and intelligence that will help you make informed decisions, identify untapped opportunities and provide actionable insights.
Participating companies and speakers so far include X (formerly Twitter), Acreage Holdings, Weedmaps, The New York Office of Cannabis Management, Union Square Travel Agency, Bloomberg, Politico, The National Cannabis Industry Association, Conbud, Arcview and CannDelta.
"New Yorkers have always had an insatiable appetite for cannabis. We are blessed, privileged and very excited to help build out and support New York's cannabis ecosystem." – David Hess, Co-Founder & President, Tress Capital (speaker)
This conference presents a unique opportunity for investors to discover high-potential ventures, operators to expand their networks and knowledge, and all attendees to immerse themselves in the exciting world of cannabis.
Don't miss your chance to be part of this transformative event. Register now to secure your spot at the Business of Cannabis: New York Conference on November 3, 2023.
About Business of Cannabis: The Business of Cannabis is a leading platform dedicated to providing industry professionals with the latest insights, news, and networking opportunities in the cannabis sector. Our conferences and events are renowned for bringing together the best minds and companies in the industry to drive growth and innovation.
For sponsorship, speaking, or exhibition opportunities, please contact Matt Freemantle at matt@prohibitionpartners.com.
For media inquiries, please contact Michael Hoban at michael@prohibitionpartners.com.