February 10, 2017
Join the ICBC in Supporting Gavin Newsom for California Governor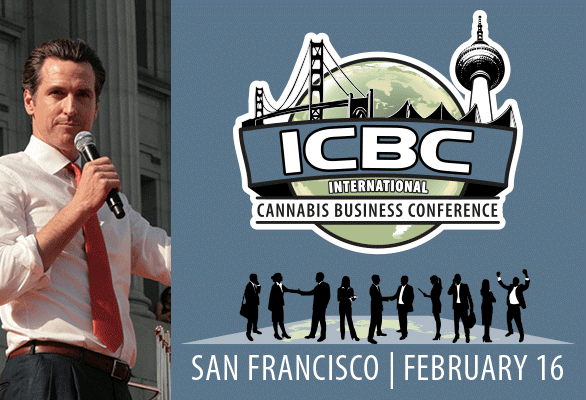 Please join the International Cannabis Business Conference in supporting Gavin Newsom as the next Governor of California, on the evening of February 16th, the night before our San Francisco conference. Lieutenant Governor Newsom has been outspoken on the need to end cannabis prohibition and has shown true leadership on the issue.
This will be an excellent opportunity for the cannabis community to help a strong supporter of legalization become the chief executive of the sixth largest economy in the world and to help Lt. Governor Newsom better understand the needs of the industry. Please join us at this historically important event.
Please see the message below from Alex Rogers, lead producer of the ICBC :
Cocktail Reception in Support of Gavin Newsom for Governor 2018
Dear Friend,
I am excited to invite you to a reception that I am hosting with Lieutenant Governor Gavin Newsom on 
Thursday, February 16
 in San Francisco!
Lieutenant Governor Newsom has emerged as a champion for the legalization and decriminalization of marijuana. This past fall, Lieutenant Governor Newsom championed Proposition 64, the California Marijuana Legalization Initiative, which was supported overwhelmingly by California voters in November. Proposition 64 legalized the adult use of marijuana, designating state agencies to license and regulate the industry and impose taxes on its sale. Proposition 64 is the most progressive initiative in the country and its passage strengthens California's role as a leader for the rest of the nation.
I know that Lieutenant Governor Newsom's dedication to this issue, criminal justice reform, economic development and job creation, improving access to higher education, equality for all, and bolstering California's environmental leadership will be critical for our state's future. While we are all frustrated with the policies of the new Administration and the consequences for our country, I am determined to ensure that Lieutenant Governor Newsom is elected the next Governor of California.
Thursday, February 16, 2017
5:00pm
 VIP | 
5:30 – 6:30pm
 Reception
Hilton Union Square Hotel 
Vista Room, 45th Floor
San Francisco, CA
Suggested Contributions:
$1,000 - Ticket
$5,000 – VIP